Flurry of activities in Roppongi Hills but just about 15 minutes away at Roppongi Midtown, they have their own version of summer activities too. Exhibits featuring the 3 biggest matsuri in Tohoku area like the Boat floats in Aomori

Where gigantic floats made with paper and artistically painted by hand and paraded in Aomori during the Matsuri.

Sendai's Tanabata Matsuri.

Yamagata's lantern matsuri where they would parade these lanterns where 1 person would balance it.

Photo credit to my friend for this photo, where Godzilla also hit Roppongi Midtown.

Also another character installed to promote the movie.

Oh, are you scared?

Even the tail was so intricately placed.

Next would be joining the long line for the famous shaved ice from Kyoto.

It was stated that one order person, no sharing. The shaved ice portion was HUGE! They even provided a small plate where you can move your green tea ice cream over before the fluffy shaved ice collapsed.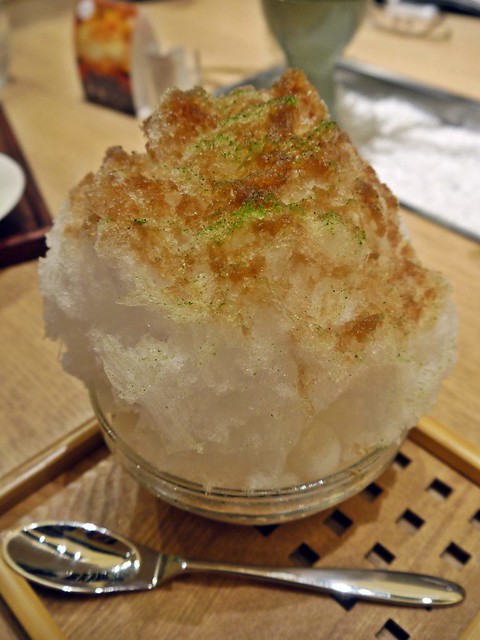 Brown sugar shaved ice.

Condensed milk shaved ice topped with green tea ice cream.

See! Really fluffy but it was too big for me.

It was a really hot day but by the time we were done, we were all shivering from the cold. The shaved ice though expensive (almost 1000JPY for one) but lots of surprises were in hold for us, like the green tea ice cream, fluffy shaved ice and of course the mochi and red beans buried inside.
Address:京はやしや 東京ミッドタウン店東京都港区赤坂9-7-3 東京ミッドタウン ガレリア B1F