Seriously, there wasn't much in Suwon. We just randomly find this 24 hours Korean family restaurant for our breakfast.

Fish inttestines (in actual fact) sperm sac breakfast. I guess, lots of energy from this meal 😛

It is still pretty much common to find some street side vendors in Korea.

Fruits and vegetables for sale.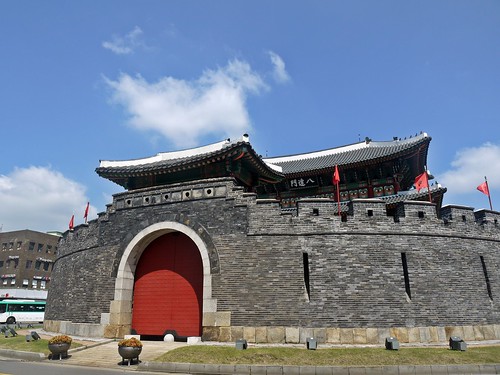 Paldalmun, one of the 4 main gates to Hwaseong Fortress.
Hwaseong Fortress is an impressive structure from the latter part of the Joseon Dynasty (1392-1910) and the official fortress of Suwon-si, Gyeonggi-do. The fortress (constructed from 1794 to 1796) was built as a show of the King's filial piety towards his father Jangheonseja and to build a new pioneer city with its own economic power.

If you turn back, you would see the modern city, in contrast to the fortress.

Most of the structures are all rebuilds since most of the orginal was destroyed when Japanese colonized S.Korea.

Suwon City. You can also see the Hwaseong Haenggung Palace

More view of Suwon city.

One of the many sentry post.

If you follow the path, you probably can cover most of the fortress in 2-3 hours?

Guard post.

Most of the Koreans were out there to enjoy their weekend in the open.

guess, the soldiers in the past won't be able to visualize such a view when they were guarding their posts.

Another one of the main gates.

They did a great job in rebuilding the fortress, would be perfect for a hike but it was just too hot for August.

Ols style tea house.

Oh no! Dangerous!

Our last stop for the fortress.